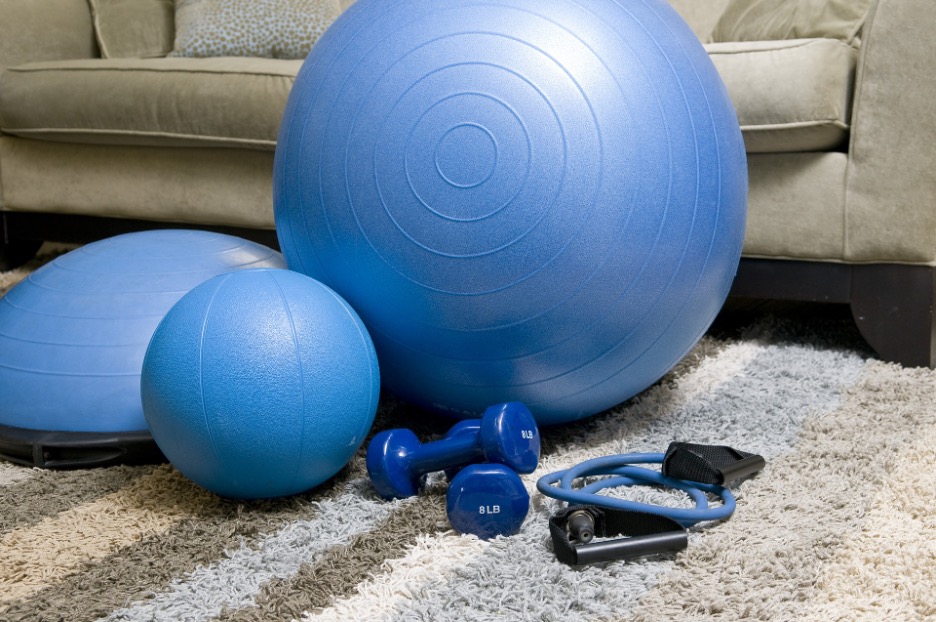 There are undeniable benefits that come with working from home; there's no lengthy commute to and from the office every day, no commuting costs, you can wear comfortable clothes, and have the freedom to have whatever you want for lunch. It's easy to see why working from home and hybrid working is the 'go-to' choice for many professionals.
However, working from home does tend to mean that you move around a lot less, and it's common for workers to spend hours a day sitting at a desk. You don't need to walk to the train station, and you don't need to run for the bus. You don't need to pop out for a coffee or head to meet a colleague for lunch. At most, you walk from one room to the next and perhaps to the sofa for your lunch break. This can mean that staying fit and active becomes a lot more difficult, but there are ways to combat this.
Below, we have listed some of the key exercises that can be done at home and at your desk. They require minimal equipment or equipment found at home, making them easy options for anyone who works from home.
How to Keep Fit and Active While Working from Home
There are various ways to stay fit and active while working from home, from going for a walk at lunch to investing in a standing desk. Which of our suggestions will you be trying?
Join an Online Yoga Class – It's not always easy to partake in exercise classes at home, especially if you don't have a tonne of fancy equipment, but yoga is an easy one. You don't need anything more than a yoga mat, and it's an effective way to get your body working during your work day. There are a lot of yoga classes online, as well as free tutorials and expert information, so you shouldn't struggle to get started as a beginner.
Stretch to Start the Day – It's not easy to kickstart a work day at home, as there is no commute to wake you up. You can get around this by starting the day with a stretch. Not only will this help wake you up and get you geared up for the day, but it's also an excellent way to move your joints and muscles. Working from home tends to involve a lot of sitting at a desk, but stretching can prevent aches and pains linked to sitting for long periods.
Get Your Steps in at Lunch – It's easy to find yourself spending eight hours a day sitting at your desk, which is the opposite of keeping fit and active while working from home. You can combat this by going for a walk on your lunch break. Even a 20-minute walk around the block can make a big difference. Plus, it will wake you up after a morning of meetings. It's better to do some movement than none at all, and a quick lunchtime walk is one of the easiest options.
Do Weights at Your Desk – You don't need to spend a small fortune on weights if you have tins in the cupboard, as they work the same way. Grab two tins of beans or soup, and use them as you would weights. It's a great way to move your arms and build your muscles. You can do this at your desk with minimal space, making it ideal for working remotely.
Stand and Balance When You're on a Call – Conference calls and team meetings can be lengthy, which makes them the perfect time to stand and balance. After all, who says you need to be sitting? Regularly standing up is essential when working from home, as it gets your body moving and your blood pumping and helps combat a completely sedentary lifestyle.
Get a Standing Desk – To avoid spending your entire day sitting down, invest in a standing desk. These are designed to help you stand up more when working from home, which is especially important if you otherwise find yourself sitting in the same spot for eight hours a day. Though standing up itself won't burn calories or build muscle mass, it does help to get the blood flowing around your body and prevents you from feeling lazy after sitting down all day. Who knows, it might be enough to get you to head to the gym after work. You could even walk on the spot to get your steps in.
Do a HIIT Work – Many people assume that working from home means having to say goodbye to a gym session on the way to or from work, but HIIT workouts are easily done from your living room or office. You won't need a lot of equipment, and they easily fit in before or after work or even on your lunch break. A HIIT (high-intensity interval training) workout is quick, but it works up a sweat, and you're likely to see results quickly. There are a lot of HIIT workouts to follow online.
The Health Benefits of Keeping Active
At The Body Work Clinic, we know that keeping fit and active is vital to living a healthy life, but we also know that it's an important part of feeling and looking your best. This can be boosted by one of our fantastic cosmetic treatments, ranging from muscle-relaxing injections and dermal fillers to chemical peels and body sculpting. If there is something you don't like about how you look – or if something needs a little push in the right direction – and working out at home isn't helping in the way you would like, contact The Body Work Clinic. Our specialists are always on hand to answer questions and provide guidance.