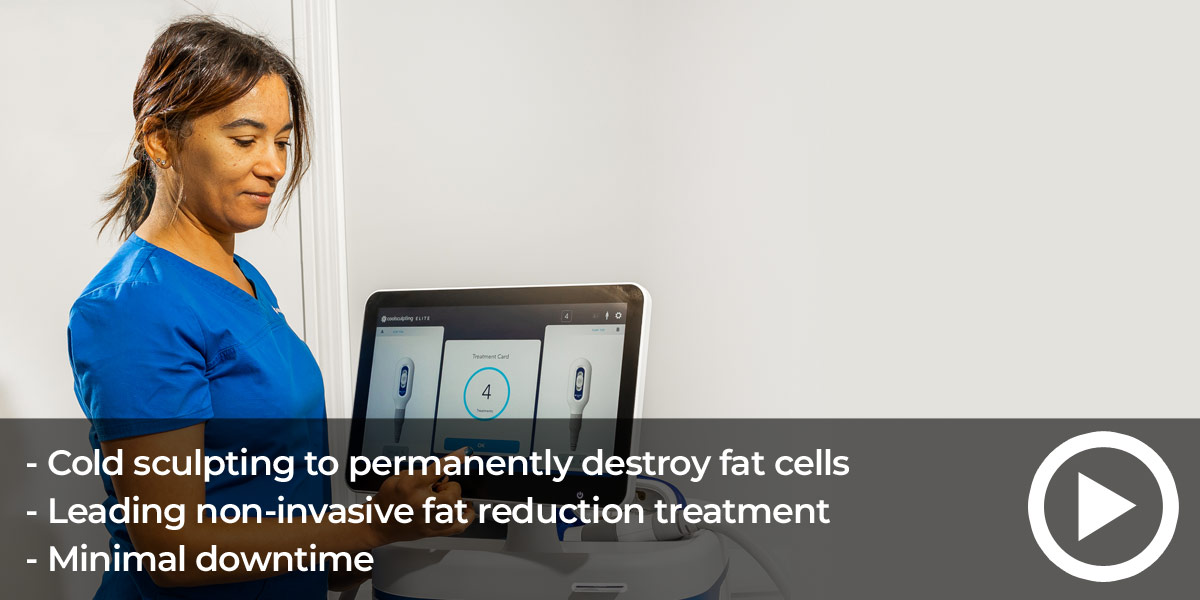 CoolSculpting ELITE is the new, most advanced cryolipolysis technology in the world that can reduce fat by up to 27% per treatment.
Now, 2 areas can be treated at the same time in less than 45 minutes. The new system has 7 redesigned dual applicators that are 18% larger than standard CoolSculpting applicators and C-shaped to better fit the body's own natural curves. The new applicators also offer a gentler suction, resulting in a more comfortable treatment experience.
The Body Work Clinic is able to offer you this new superior technology without a price increase, representing maximum value for our clients.
How does CoolSculpting ELITE work?
CoolSculpting ELITE is the most advanced non-invasive fat reduction treatment. The technology freezes away unwanted fat (Cryolipolysis) without surgery and minimal downtime.
CoolSculpting ELITE technology targets stubborn problem areas, cooling the unwanted fat cells to the precise temperature at which the fat within the cell crystallises. As fat cells are more susceptible to freezing than the surrounding tissues, fat cells can be selectively destroyed (apoptosis) whilst surrounding structures are spared.
Following the treatment, destroyed fat cells enter the body's immune system, and the body naturally processes and removes the dead cells.
CoolSculpting ELITE is the ideal treatment to remove unwanted stubborn areas of fat that fail to respond to a good diet and healthy exercise regime.
What happens during a CoolSculpting ELITE consultation?
At your free of charge consultation, the nurse will discuss your areas of concern to determine suitability for the treatment. Examination will involve assessing the amount of pinchable subcutaneous fat you hold within the stubborn areas. Your baseline weight will be taken and documented.
The nurse will advise an optimal treatment program tailored specifically to your individual requirements. The number of cycles and applicators recommended to achieve your desired clinical endpoint will be discussed in detail.
Which areas can be treated
CoolSculpting ELITE technology is ideal for pockets of unwanted subcutaneous fat situated in the following areas:
Abdomen – Belly Fat / Mummy Tummy / Muffin Top
Submental – Double Chin
Anterior Bra Fat – Axillary Puffs
Upper arms – Bingo wings / Bat Wings
Back Fat
Flanks – Love Handles / Muffin Top
Underneath the Buttocks – Banana Rolls
Outer thighs – saddle bags
Knee pads
Inner thighs
Male Chest – Moobs
Illustration of how CoolSculpting works
Fat cells after typical weight loss
After dieting and weight loss, fat cells get smaller but the number of fat cells stays the same. Losing weight does not make fat cells go away.
Losing or gaining weight generally does not increase or decrease the number of fat cells. Instead, it changes the size of fat cells. When weight is gained, fat cells get bigger.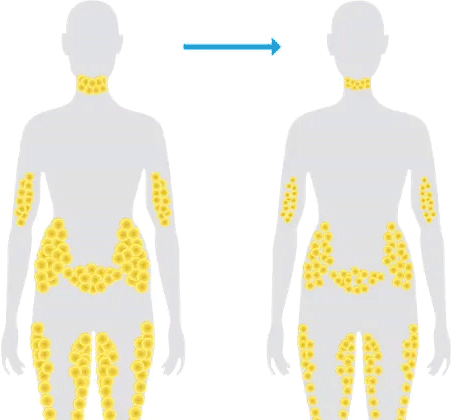 Fat cells after the CoolSculpting® ELITE procedure
The CoolSculpting® ELITE fat-freezing procedure can reduce the number of fat cells in multiple treatment areas by up to 27% after 6 months.†
These fat cells are naturally processed and eliminated, so they won't migrate to another area of your body, so there's no change to fat cells in untreated areas.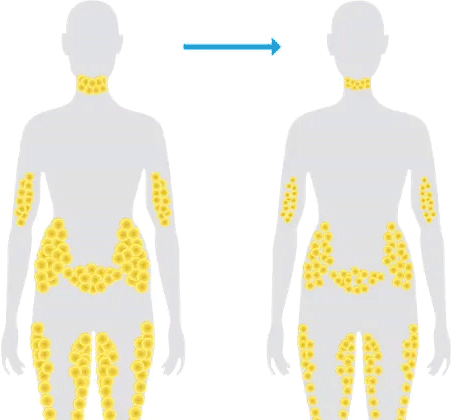 The Procedure
The CoolSculpting ELITE handpieces (applicators) are placed over the treatment area of unwanted fat and left in place for 35 minutes (a cycle). During this time you can relax, listen to music, watch television or sleep.
Follow Up Treatment & Consultation
At your second consultation, the nurse will reassess your goals.
Prior to your first treatment, detailed images will be taken in order to document your transformation.
At six weeks post-treatment, a second set of detailed images will be taken. A second CoolSculpting ELITE session can be delivered at this stage if required.
A final appointment will be arranged at 12 weeks post-treatment. Detailed images will be taken and your weight documented. Before and after images will be compared.