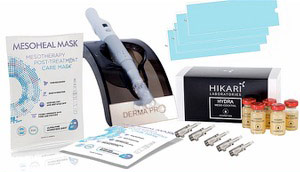 Micro-needling is a procedure that utilises multiple sterile needles to cause controlled damage to the skin. The tiny punctures trigger the body to repair itself, creating a wound healing response that stimulates collagen and elastin production.
Advantages of Micro-needling
Micro-needling is used to treat many conditions including;
Dull skin: Micro-needling has the ability to revitalise lack lustre dull skin targeting the early signs of ageing.
Wrinkles: Micro-needling stimulates collagen production that helps smooth fine lines and wrinkles enhancing a more youthful appearance.
Scarring: Micro-needling can help build a new collagen foundation beneath acne or chicken pox scars visibly reducing uneven surface texture.
Pigmentation: Micro-needling can help to fade unwanted pigmentation due to sun damage or ageing. It is a particularly useful treatment for darker skin types.
Micro-needling treatment can also be performed on most areas of the body as well as the face.
Skin-Tox
Skin-Tox is a combination treatment that involves Micro-needling and Micro-infusion. The treatment delivers a personalised cocktail of hyaluronic acid, vitamins, minerals and anti-oxidants into the skin via twenty microfine gold plated needles to a depth of 0.6mm.
Skin-Tox Micro-infusion has the following benefits:
Stimulates collagen and elastin synthesis
Improves tone and texture
Increases product absorption
Feeds and revitalises the skin
Strengthens the barrier function
Brightens dull skin
Hydrates at a cellular level
Helps reduce erythema
Improves product efficacy
Helps repair and rejuvenate the skin
Pricing
| | |
| --- | --- |
| TREATMENT | COST |
| Micro-needling | From £100 |
| Skin-Tox | From £250 |