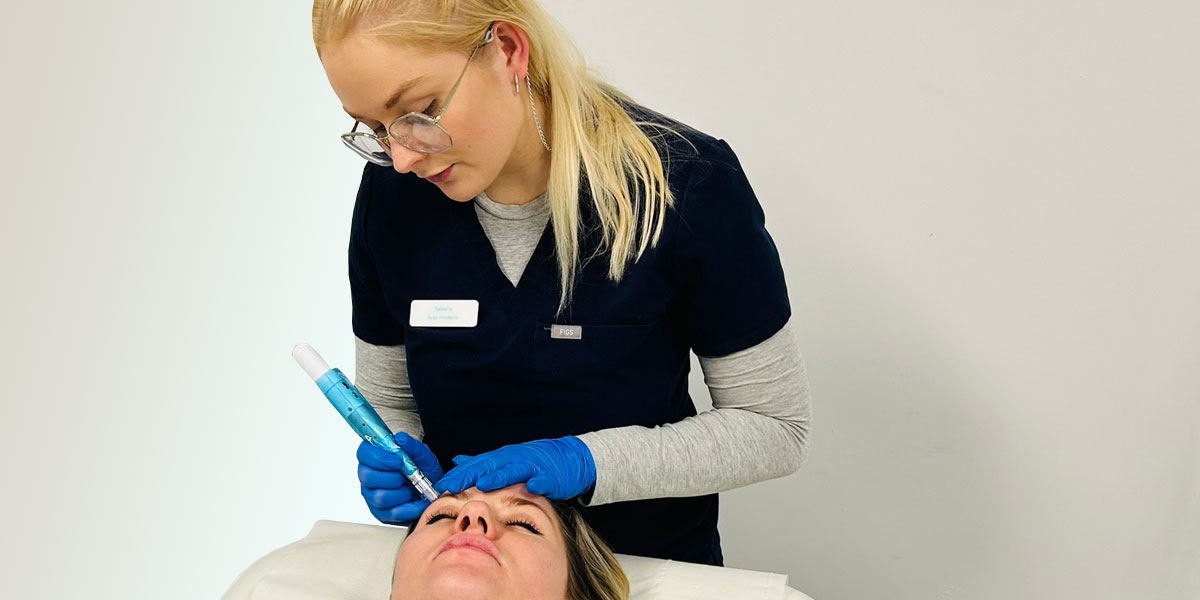 What is Microneedling?
Microneedling is a procedure that utilises multiple sterile needles to cause controlled damage to the skin. The tiny punctures trigger the body to repair itself, creating a wound healing response that stimulates collagen and elastin production.
Alongside the Microneedling treatment we use Scientifically Advanced Mesotherapy Cocktails as a glide along the skin while delivering the Microneedling treatment.
There are up to 9 Advanced exclusive Meso-Cocktail formulas:
HYDRA MESO / TIGHT & FIRM MESO / WRINKLE MESO / GROWTH-F MESO / CHROMA MESO / EYES MESO / STRETCH-M MESO / CELLULITE MESO / HAIR-G MESO
Each bespoke cocktail is formulated to give you the best out of the Microneedling treatment and to encourage cellular change to see visible improvements.
Advantages of Microneedling
Microneedling is used to treat many conditions including;
Dull skin: Microneedling has the ability to revitalise lack lustre dull skin targeting the early signs of ageing.
Wrinkles: Microneedling stimulates collagen production that helps smooth fine lines and wrinkles enhancing a more youthful appearance.
Scarring: Microneedling can help build a new collagen foundation beneath acne or chicken pox scars visibly reducing uneven surface texture.
Pigmentation: Microneedling can help to fade unwanted pigmentation due to sun damage or ageing. It is a particularly useful treatment for darker skin types.
Microneedling treatment can also be performed on most areas of the body as well as the face.
Benefits
The micro Injury caused by microneedling treatment of the skin resets and reboots cellular function
Microneedling normalises melanogenesis via cell communication
Triggers the wound healing cascade to stimulate keratinocytes and fibroblasts
Upregulation of woven collagen, elastin and GAGs
Stimulates growth factors and cytokines
Activates platelets- papillary dermis
Promotes scarless healing
Promotes cross-talk between keratinocytes and melanocytes leading to better distribution of pigment
Increased delivery of ingredients
COSMETIC needling- 0.2mm-0.3mm
Stimulates keratinocytes to release growth factors
Increased cell turnover
Product absorption
Little to no down time. Mild redness after the treatment. SPF MUST be applied
Good for skin health and overall a much more even and vibrant complexion. Suitable for over 18 years of age and all skin types.
MEDICAL needling – 0.5 – 3.0mm (pin prick bleeding occurs)
Triggers wound healing
Target DEJ
Stimulants collagen, elastin, GAGs
Activate platelets
Treats scars
Hair restoration
Pin-prick bleeding will occur during treatment. Skin redness may last 1 to 3 days after treatment. SPF MUST be applied.
Suitable for 18 years and above. Perfect for people looking to improve skin texture, scars and ageing skin.
Skin-Tox
Skin-Tox is a combination treatment that involves Microneedling and Micro-infusion. The treatment delivers a personalised cocktail of hyaluronic acid, vitamins, minerals and anti-oxidants into the skin via twenty microfine gold plated needles to a depth of 0.6mm.
Skin-Tox Micro-infusion has the following benefits:
Stimulates collagen and elastin synthesis
Improves tone and texture
Increases product absorption
Feeds and revitalises the skin
Strengthens the barrier function
Brightens dull skin
Hydrates at a cellular level
Helps reduce erythema
Improves product efficacy
Helps repair and rejuvenate the skin
During your consultation your concerns and skin will be assessed to see which treatment is best for you, whether it be Cosmetic or Medical Microneedling or even our Skin-Tox treatment. A course of treatments is recommended.
Pricing
From £300 per session. The exact price will be confirmed during your bespoke consultation.