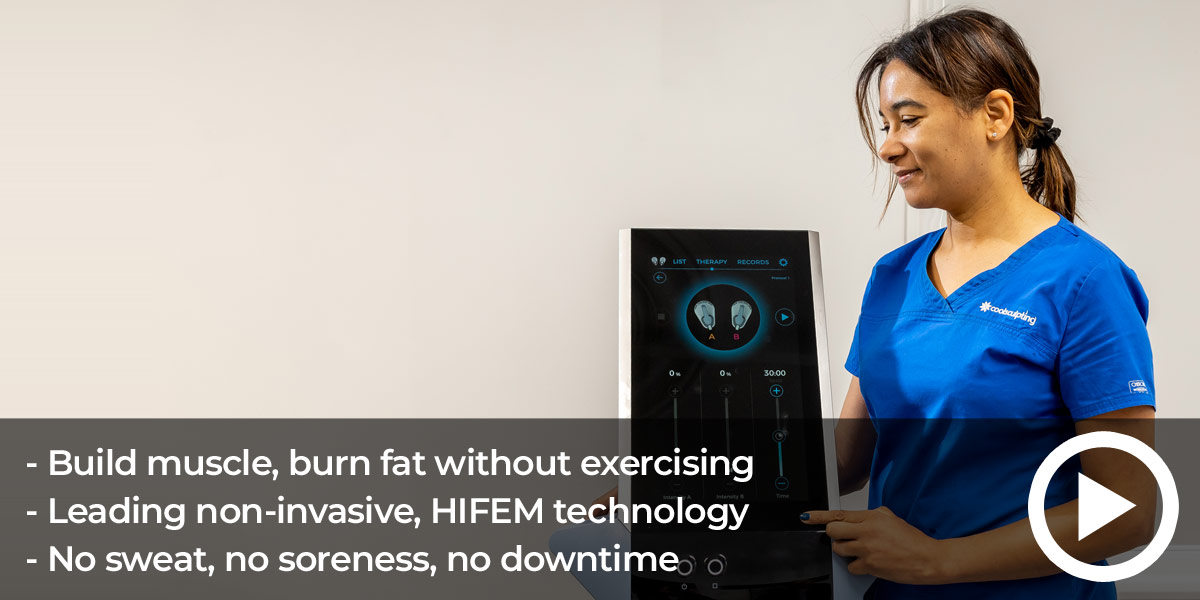 EMsculpt is a non-surgical body shaping technology that reduces fat and increases muscle tone and strength within the treatment area.
Unlike fat removal treatments like CoolSculpting and Liposuction which target the fat directly. EMsculpt's fat reduction results are instead a knock on effect from what the device is doing to your muscles.
EMsculpt treatment has the ability to contract the treated muscles far more than is possible through physical training. The result is not only improved muscle tone and increased muscle mass but also fat burning in the treatment area due to enhanced fat metabolism.
The results from EMsculpt are backed by 7 clinical studies which reveal fat reduction as well as defined and sculpted muscles to the abdomen and buttocks following a series of 4 treatments.
The following results were achieved in the treatment area following clinical studies:
a 19% reduction of fat
a 4cm loss in waistline circumference
a 16% increase in muscle mass
an 11% reduction in abdominal muscle separation (diastasis recti)
a 5 x increase in fat metabolism (apoptotic index increased from 19% to 92% after treatment)
a visible lifting effect of the buttocks in 80% of clients
a 96% client satisfaction
EMsculpt treatment is an ideal treatment for the following areas:
Stomach (Abdomen)
Buttocks (Butt Lift)
Upper Arms (Biceps and Triceps)
Thighs (Quadriceps muscle)
Calves (Gastrocnemius muscle)
The EMsculpt device utilises High Intensity Focused Electro-Magnetic Technology (HIFEM) to induce a very powerful supramaximal muscle contraction (activating 100% of the muscle myofibrils) within the treatment area. This is not achievable through voluntary contractions (activating a maximum of 40% of the muscle myofibrils) that occur during regular exercise.
The supramaximal contractions force the muscle tissue to adapt by remodelling the inner structure resulting in muscle building (increased mass) and fat burning (Apoptosis)
The non-invasive HIFEM (high intensity focused electromagnetic) technology induces 20,000 supramaximal muscle contractions in 30 minutes.
Hence a single 30-minute EMsculpt procedure is equivalent to 20,000 sit-ups and squats
Emsculpt Benefits include:
FDA Approval
Builds muscle & burns fat
World's first non-invasive buttock lifting procedure
Tried and tested by medical professionals
No downtime and immediate return to normal activities.
Clinical Trial results show 19% fat loss and 16% muscle increase.
Voted 91% Worth it rating by RealSelf's Patient Choice Awards 2020.
NewBeauty 2019 Award Winners: Best Innovations.
Best Body Firming Treatment – Harper's Bazaar 2019 Anti Ageing Awards.