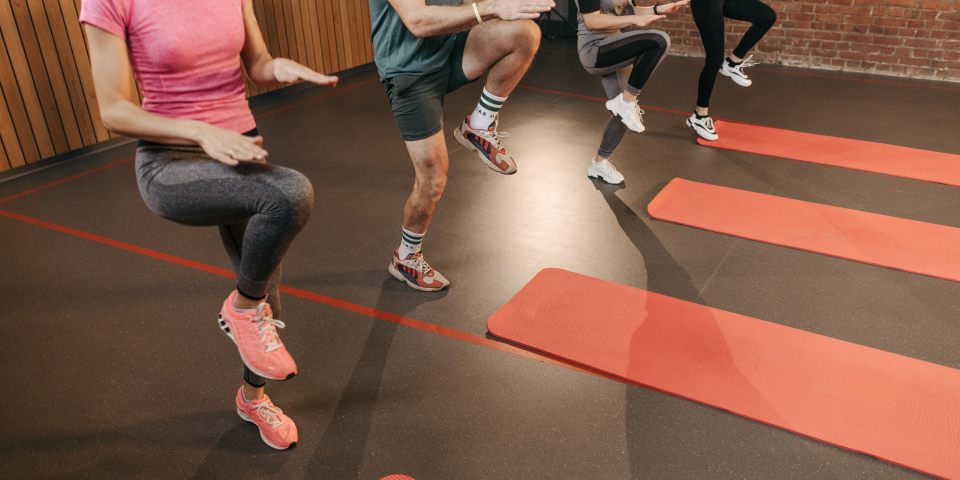 Whilst many people like the idea of working out in the gym, it can often cause feelings of anxiety and dread. You may feel unsure of how to use the equipment or feel as though you're not as fit as others there. Not to mention, the weight sections are often incredibly male-dominated which can be intimidating for a first-time gym-goer.
These are completely normal feelings, though rest assured they can be combatted. With our top tips, we hope to help you overcome your gym-timidation and feel your most confident self.
Create a Fool-Proof Plan and Become Familiar With the Equipment
Most gyms offer inductions to help you ease into the surroundings. This also helps you to feel confident using the equipment without supervision. Knowing where to begin can feel overwhelming but your gym should have trainers who can work on a 1:1 basis with you until you feel confident enough to create your own circuit.
Having a plan for what equipment you want to use can ensure you get the most out of your session and leaves no time for worry. Instead, you can warm up and begin your workout as smoothly as possible.
If you don't know how to formulate a plan, the internet is your best friend! There are lots of pre-planned gym workout routines as well as YouTube videos to help you become familiar with the equipment most likely available to you.
Bring a Friend Along
One way to overcome any gym-timidation is to bring someone with you. This could be a friend or partner who makes you feel more confident and less intimidated. It could also be a great idea to bring someone who is already familiar with the gym.
This way, they can show you how to use the equipment correctly and make you feel more at ease in this temporarily unfamiliar environment.
Take Your Weights to an Area You Feel Comfortable
Whilst many gyms have designated spaces for weights, lifting in the middle of the floor may not help to ease any potential anxiety. Instead, why not take your weights off to one side where you can gain a bit more privacy?
One of the things that stop some people from using weights is that the weight area of the gym is often a very male-dominated space. If this is something that worries you about your local gym, why not opt for an all-female gym or look for a more inclusive space?
Once you have mastered the correct form you will feel a lot more confident and able to transition to more central areas of the gym. It's also important to remember everyone has to start somewhere and most of the experienced people in your gym will have been in your position at some point.
Work on a 1:1 Basis With a Personal Trainer
If you can afford to, working with a personal trainer can be very beneficial. They can show you how to use the equipment in the best ways and how to increase your weights so that you can progress each session and reach your potential.
Your gym will probably have its own set of personal trainers who can offer expert advice. Having a personal trainer can help you to maintain motivation and many include nutrition plans to help you feel your best physically and mentally.
Remember That People Are Focussed on Their Own Goals
Many people feel anxiety surrounding the gym because they feel as though others are looking at them or judging them. Most people who go to the gym are entirely focused on themselves and their own fitness goals.
A good way to ground yourself when feelings like this arise is to think of all the people you noticed and thought about when you were also at the gym. You will most likely not be able to remember a specific person and instead will have focussed on your training.
Practise at Home
If there's something you want to try but feel embarrassed to do so at the gym, practising it at home can help you to feel a lot more comfortable.
Even if the exercise requires equipment, practising the basic motion in front of a mirror or recorded on your phone can help you to get a feel of how it looks and if you are likely to perform it accurately.
Planning and practising can help to remove a lot of the gym-timidation many first-time gymgoers feel before they begin their workout session.
Create a Playlist of Your Favourite Confidence-Boosting Songs
One of the ways to ensure you have a great workout is to have the right music. Compiling a playlist of your favourite songs that build your confidence can help you feel in control.
Putting headphones on and turning up the volume can also help you to avoid distraction and focus only on yourself. Getting into the zone can help you to reach your goals.
Wear Clothes That Make You Feel Good
Feeling self-conscious about your gym clothes can take your mind off your session and leave you feeling less confident. Instead, make sure the outfit you choose to work out in is comfortable and makes you feel good about yourself.
Dressing in a way that supports your confidence will allow you to focus on your workout goals instead of worrying about what you look like or what other people think.
We understand that going to the gym for the first time can feel a little daunting. However, there are lots of support options available to help ease you into working out in a shared space.
We hope that by reading our top tips you can enter the gym feeling your ultimate best. For further information and for advice on how to reach your body goals, call The Body Work Clinic today on 01223 455144 for a free consultation with our leading aesthetic specialist Ruth Holt.